CX Nav Bar
Navigation menu made in macromedia flash, easy to use, all you have to do is insert the swf file in your web page like any other flash file and place the XML (configuration file) in the same directory.
If you roll over the menu buttons you will see that flash content can drop over normal html content (this text is normal html content).
Menu was updated, now it can have an unlimited number of main buttons and unlimited number of sub buttons. Sub menus movement code has been changed, you can set a delay for the rollout actions so that the sub menus close instantly or wait a bit before going up. You can also set button size in the new version.
---
The configuration file looks like this: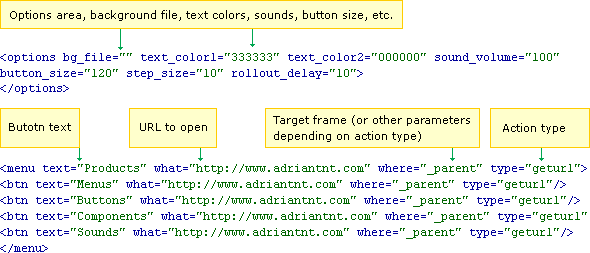 ---
Advanced flash users can use other available action in addition to opening an URL, these additional actions are loadmovie, gotoandstop, gotoandplay, fscommand, function (the last one can be set so that the menu calls a function inside the flash file).
A background file can be loaded in the menu, this file can be a JPG or a SWF file.
Sounds can also be disabled by setting sound_volume = 0